Clean Water Shortage in Shantou
By Ye Xiao (Nika)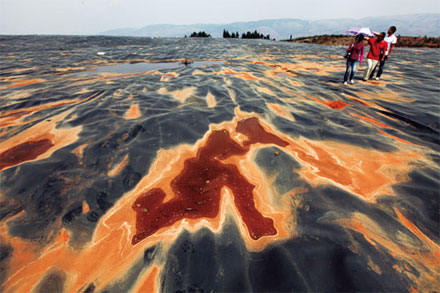 photo from baidu
Dark blue, gray, purple, Shantou City is divided into different colors on the map, the most prevalent being dark blue and purple, colors representing the most severe pollution.
It's not a common map. It's the water pollution map based on 2004 China Environmental Statistics Communiques, and every color other than blue stands for pollution in different degrees.
"People have polluted the water sources," said Yao Xiaoping, 43, a local citizen in Shantou, who criticized some of Shantou people's behavior. "They throw the garbage in the water and pour dirty water into the river."
The Long Hu River near Wal-Mart, in which her husband used to pick seashells, now gives off a noxious odor, resulting from a mixture of industrial waste-water and household garbage. Rivers are becoming increasingly smaller when garbage piles up on its bank and eventually invades the water.
Under Xinghua Bridge, the trash heap, which has already occupied half of the river on the left side, is directly burning on the water. On the other side, the inundating hyacinth is seizing its territory. It blocks sunlight and starves oxygen in the water, competing with other aquatic plants.
"I've never thought of water problem. I think everyone in Shantou has access to clean tap water," said Lin Jingna, 38, a saleswoman.
"Most people in Shantou do not have the sense of water problems. Actually in 2001, Shantou was listed among the cities of Guangdong with the most severe water shortage," said Chen Changzhong, the director of the Bureau of Water Resources in Shantou. The measure of water supply, however, does not take into account the water sources such as the Han River that originates outside the city.
"Frankly speaking, the water problem in Shantou does not lie in the quantity of water resources. The serious part is the water pollution," he added.
"Just go to Chao Nan and Chao Yang districts and you will see the seriousness with your own eyes. In the past, Lian River across Shantou was widely used for washing or irrigation, but now, it is assessed as the 'Worst Grade V,' which means that the water has lost its function as 'water.' It can even be called as 'poisonous water'. Now we are largely dependent on Han River," Chen said frowning.
"If the government is really determined to solve this problem, it's not a problem anymore. Water shortage in Shantou is tied to pollution. With plenty water surrounding, Shantou is in desperate need of clean usable water," said Lin's husband who declined to give his name because of his work related to the local government.
Until 2007 Shantou and environs, with its population of 5 million, had only one sewage plant—Long Zhu Water Pollution Control Plant, according to the non-governmental Institute of Public and Environmental Affairs. Furthermore, based on a database of the Institute, the sewage plant is inefficient in dealing with industrial waste water. Because the waste-water pipes do not match the nets for purifying the water, much of the waster water directly flows into the sea without being purified.
However, since 2008, another eight sewage plants (Chao Yang District Sewage Plant, Qing Yuan Sewage Plant in Chen Hai, Shantou Nan Qu Sewage Plant, Shantou Bei Zhou Sewage Plant, Xia Shan Sewage Plant in Chao Nan District, Hou Jiang Sewage Plant in Nan'ao, Gu Rao Sewage Plant in Chao Yang District, Liang Ying Sewage Plant in Chao Nan District) are under construction and expected to be completed around 2010, according to the news on Shantou Governmental Website, October 6th, 2008.
According to Shantou Daily in an article published on Mar. 22, 2005, about 1 million people in Shantou didn't have access to clean drinking water. Chen smiled at that number and said, "If this is the current situation, maybe the citizens will rebel against us."
He added, "We are making efforts all the time and now about several hundred thousand more people have access to tap water. And we are going to complete the tap water project in 2010."
In 2008, a new Water Pollution Control Act in China added water conservation as part of the government's official goal.
Lin's husband, who refused to give his name, remains skeptical. He said, "Maybe it will have some effect, but as long as their aim for GDP growth is much more important than their handling of pollution issues, change will be slow to come."
---