Chaozhou Girl to Dance on One of the World"s Greatest Stages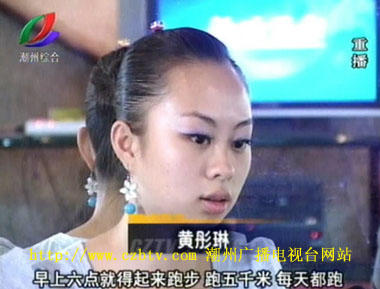 photo from czbtv.com
The 18-year old girl from Chaozhou danced hard, day after day for the 13 years without complaints. A few days ago, the girl, Huang Tonglin was officially chosen to solo dance in Vienna's Golden Hall, generally considered to be one of the finest concert and performance halls in the world.
In a story about her in Da Hua news site, the spring of 2009 was described as a "harvest season" for Huang. She won two world renowned dance awards consecutively over the course of a few days. At the Third World of Chinese Art Festival in January, she won the first prize in Junior B team for her Dai minority dance called "Flying Peacock." At the Hong Kong International Youth Arts Festival, she won a Diamond Award in the Dance Professional Youth Group on Feb. 2.
Huang began to love dancing when she was in kindergarten, according to her father.
"Dance was her best playmate," her father was quoted as saying.
Huang passed the entrance exam of Guangdong Dance School and studied in Guangzhou by herself when she was only 14 years old. Her parents opposed her choice at the beginning but she stuck to her dream. Not only was she able to handle herself on her own, but she also accepted strict professional dance training when other children of the same age were still heavily reliant on their parents.
In addition to her training routine, Huang had to stick to a strict diet in addition to accepting the dance training.
"I had to run 5000 meters as a penalty if I was found to have eaten snacks," she said.
"You practice for ten years off the stage for one minute on the stage," Huang said. "I would succeed one day, I believed."
---